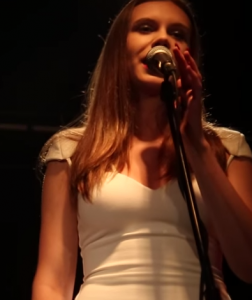 Breathtaking signature voice over pop beats, multi-layered lyrics that take you deep into the human experience — Aria Tesolin is an opera pop singer and poet from Toronto known for her distinctive style of classically infused pop music. She was nominated for Best New Top 40 Artist of the Year (alongside Lorde, Avicii, Austin Mahone) at the 2014 New Music Awards, along with Breakthrough Top 40 & Breakthrough AC Artist of the Year.
Fans describe her lush vocals as majestic, ethereal and mesmerizing. A talented and complex artist, songwriter and poet, Aria was born in 1993. With selected songs playing on radio around the world, her fearless genre crossing music is attracting the eclectic tastes of multi–generational listeners.
Her long awaited sophomore album Ascension, released April 9, 2013, reveals the hidden gems of her songwriting talent in a collection of songs that are both memorable and unique in the music landscape. The exceptions — music compositions for Dolce and The Catch — were composed by Popi Fabrizio of Italy.
Ascension has received critical acclaim as a strong album for both music and lyrics. For Ascension, Tesolin and producer Douglas Romanow, also from Toronto, developed an innovative sonic landscape that combines the poetry of her lyrics with elements of classical orchestra and electro-pop, (harp, cello mixed with electronic piano and synthesizer effects), and harmonizes with her operatically leaning mezzo soprano voice. This all leads to a refined piece of musical work where Tesolin's unforgettable voice resonates with elements of pop, rock, musical theatre, and crooner jazz.
Ascension shows Tesolin's musical direction as a fusion of pop classical & contemporary pop. Themes from this album include the battles of every life: loneliness, faith, hope, rising above, and the possible risks of the fleetingness of love. In a world where stellar classical voices tend to put out albums of operatic cover songs, this meant taking some major risks.
A poet at heart, Aria writes:
"This album was written by cracks in the concrete, sighs on the subway. I wrote these lyrics in partial sunlight. I rearranged parked cars into melodies and sunsets into chord progressions. The keys on my piano opened locks in my mind, speaking to me and through me, whispering these songs to me as I painted them into clarity. I thought long and hard and decided against all odds to do music and poetry."

"I'm fascinated by flaws, the fact that they exist. We all have imperfections, but mostly we avoid them. They are the most interesting thing to write about. But I expose them in a way that puts people together rather than tearing them apart."
Aria's fearless genre crossing musical style takes pop classical music out of its comfort zone in churches and recital halls and gives it an alluring Top 40 and contemporary pop sound.  She may be the only pop classical singer to play and chart on a Top 40 radio format since Andrea Bocelli's radio hit Con Te Partiro. In 2013, The Key, a radio single from Ascension, quickly rose to the top 5 on New Music Weekly's Hot 100 Singles Chart on US radio where it played on Top 40 & AC formats alongside major artists like Bruno Mars, Justin Timberlake, Adele, and Pink.
Ascension is available at digital retailers and music streams internationally and can be ordered in the web site store.
Aria began performing opera at 8 years old and a few years later her charismatic performances became popular on YouTube as "Youngest Opera Singer in the World" reaching an audience of 7 million people. Her debut opera album Baby Soprano, a collection of 14 popular and difficult opera arias recorded at age 12 was released in 2006.
A career artist and musician, Aria lives and breathes music and is a fan of numerous artists and multiple musical genres. She has recently appeared on TV on CanadaAM, ETalk, YTV's "In the Zone", TVOKids, CHCH, and on CBC Radio 1 "Fresh Air", and the Hottest New Artist radio show on Fox Sports. Her live show features music from Ascension and unexpected covers, accompanied by Tien Yeung on keys/piano, Max Senitt on drums, and Mike Pelletier on bass.
ACCLAIM:
"that sense of maturity shows in her new, now adult work….Tesolin's lyrics now work through life's more pressing challenges: isolation, faith, overcoming. With songs that draw in elements of pop, rock and crooner jazz, Aria's polished signature vocals with classical roots soulfully play with music, motif and meaning. Ascension's title track has been described as "at once an introspective play on musical theatre, and a demented Cohen-esque waltz." Barry Chong, TORO MAGAZINE

Mezzo-soprano Aria Tesolin began singing opera arias in concert with Canada's 3 Tenors at the age of eight, and released a popular opera album, Baby Soprano, when she was 12. The vocal virtuoso has since blossomed as a lyricist too, as can be heard on this strong second album. It fuses classical, pop and electronica elements to beguiling effect, with producer/arranger Douglas Romanow doing fine work. Ascension includes remixes of her two top singles, "The Key" and "Dolce", both hits in Europe. Kerry Doole, New Canadian Music
Though Aria began as a vocalist, she continues to cultivate her own creative originality as an artist.
"I grew up listening to singers like Bocelli and Maria Callas and my vocal style hasn't changed since then, they are always at the back of my mind when I sing. However, my writing in music comes from very different inspirations. I am a pretty big music nerd. I'm really crazy about cool chord progressions. The Beatles and Radiohead drive me absolutely insane with that stuff. I have to listen to music that has something a little odd about it. My favourite current bands are Mother Mother and Metric. I'm also huge on the lyric end of things – I'm in love with Elliott Smith, Bob Dylan, Jim Morrison, and Conor Oberst, all of them musical poets. They have all had huge influences on my writing style."

"As a musician I see myself as a singer and a songwriter. My voice is like Amy Lee of Evanessence, but perhaps a little more bright and classical. I think my lyrical influences are more in the style of people like Joni Mitchell and Conor Oberst, and my melodies go all over the place. I think maybe the closest all around artists to me are Corinne Bailey Rae and Rufus Wainwright. My lyrics tend to be a lot more edgy, while the rest of my music is a lot more melodic and classically influenced."

I try to experiment with my music because I want to develop as a musician and artist. I am not satisfied when I write a chord progression that is too familiar to the ear, and I care especially about having unique lyrics. When I write a song, I am looking to combine a melody that shows off my voice, with lyrics that I am proud of, and a chord progression that is at least semi-unique."
Also a competitive spoken word and literary poet, Aria quickly became a fixture on Toronto's spoken word scene where she rose from obscurity under the name Ambrosia at the age of 17, and in 9 months became a recognized force on the adult poetry scene and the Grand Slam Champion of BAM, the Toronto Youth Poetry team. She now competes at a National level in Canada.
"I'm really into the Canadian Spoken Word scene. I go to a lot "Poetry Slams" where some really unique poets compete against other unique poets to win titles, money — mostly glory. It's a really fast-growing scene right now, and it's fun to be a part of. That's my other love."